Enrichment & Personal Development
"We are our choices" – J.P. Sartre
As a Sixth Form we believe in providing opportunities with and beyond departments to engage, inspire and challenge all of you during your two years of study. We manage this by delivering an Enrichment Programme of activities which all our students have the opportunity to take part in; all of which are designed to engage, motivate and develop new skills across a range of fields (including the arts, sports and education). In preparing our students for the future this weekly event provides a range of opportunities to gain new experiences, develop life skills and pursue interests.
During Year 12 you will be timetabled to attend 2 periods per week of the Enrichment Programme. How this works will be explained to you when you start in the Sixth Form, but it is important that you remember this forms an important part of your timetable as a Sixth Form student at Comberton and that the staff you work with may be asked to provide a reference towards your UCAS or future employment applications just like your other subject teachers.
Enrichment options for Year 12 for the coming term include: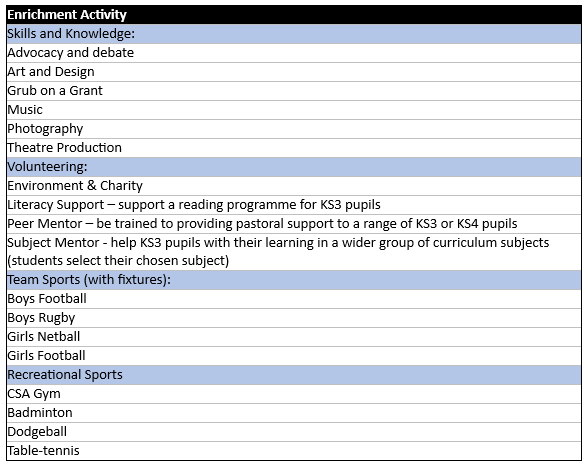 Alongside the Enrichment Programme and throughout the year you will participate in 12 periods of Personal Development (PD). These sessions are a balance between preparing you to manage your current lives and laying the foundations for managing future experiences. There is a significant chance that you may leave home after your A-Levels so your Personal Development sessions will ensure that you continue to learn about issues with real-life relevance, particularly at this crucial transition point in your lives. These sessions are in addition to your fortnightly year group assemblies that will cover similar themes.
Our overriding aim is to ensure that have the knowledge and understanding, skills, strategies and attributes that you will need for independent living and the next stage of your education or career.
The key areas that are covered at CSF are:
Personal organisation and study skills
E-safety
Healthy Relationships
Mental Health and wellbeing
Personal Finance
Preparations for your next steps