Results
Comberton Sixth Form results, Class of 2022
Many congratulations to all our Comberton Sixth Form students on achieving superb results in 2022.
With the turbulence of the 'pandemic years' and the use of Centre Assessed Grades, then Teacher Assessed Grades, we are not 'publishing' our results by subject as direct comparisons are very problematic and advised against. We have provided a summative table below as a helpful indication of outcomes and progress.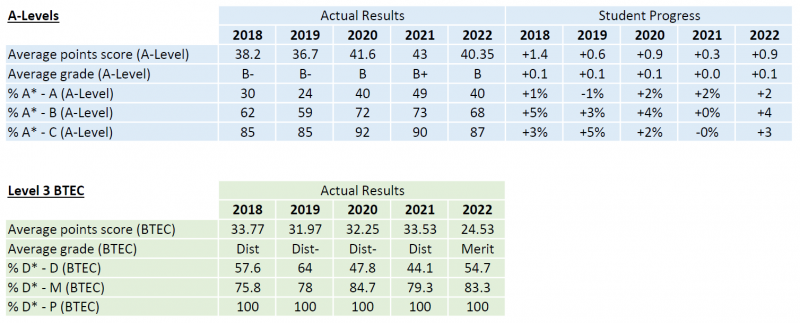 Destinations
This year 95% were placed at their chosen university with a third of university applicants going to Russell Group universities, including Oxbridge. In addition, a number of students have also been offered places on highly sought after school leaver programmes and apprenticeship schemes.
GCSE English and Maths
All students who join us without GCSE Maths and/or English or having achieved below a 4 in Yr11 are required to retake with us.
In 2022 100% of these students left us with a 4 in English and 91% with a 4 in Maths.
Student Retention
In the academic year 2021-2022, 98% of students completed their programme of study and learning aims. Four students who started the year in Year 13 did not complete their course/examinations at the end of their programme of study. These students moved in alternative provision or apprenticeships.
96% of students who joined Comberton Sixth Form in September 2020 (Year 12) moved into Year 13 and completed their exams in the summer of 2022.